Dr. Ruth Adam is a neuroscientist and yoga teacher. She obtained her Ph.D. in 2008 and has conducted postdoctoral research at various institutions including the Max-Planck-Institute, Heidelberg University Hospital and Munich University Hospital, giving her firsthand knowledge of the challenges in conducting a Ph.D. and the research thereafter. She is a certified yoga teacher since 2012, and had since completed the advanced (500hr. YA) as well as pre- and postnatal teacher trainings. She has many years of experience teaching both yoga and in academia.
Dr. Aniko Balazs took her doctorate in comparative sociolinguistics. She worked as an interpreter and translator for English, Russian, German and Hungarian in different fields of medicine and computer science. She taught Medical English at the Semmelweis Medical University in Budapest and subsequently switched to the University of Applied Sciences, Munich, where she has been teaching Computer English and Technical Writing for more than 16 years. As a freelancer, she offers seminars, workshops and coaching in Scientific Writing.
Dr. Thomas Becker has been working as a consultant and trainer for more than ten years, with focusing on project management. For his clients he is developing and facilitating training concepts for managers and team members. He also evaluates training needs and supports projects directly by consulting. Thomas Becker is a certified Project Management Professional and a Certified Scrum Master. After finishing his studies, he worked at the Institute for Electrical Engineering and Acoustics. The topic of his PhD thesis at the Institute for Sociology (University of Münster) was Technology Assessment. For 10 years he worked as a project manager in a Technology Center in Rheine. He is one of the publishers of "Kooperationsmanagement", which has been be published in its third edition by Springer.
Dr. phil. Denise Beckmann
After studying psychology at Friedrich-Alexander-University Erlangen-Nürnberg she received her Ph.D. in 2010 from Technical University of Munich. From 2006 through 2011 she worked at TUM and also lectured at Humboldt University of Berlin. She completed trainings in clinical hypnosis, emergency psychology, systemic and family therapy as well as behavior therapy. She also became accredited as sport psychological expert with the Federal Institute of Sport Science after finishing the asp/bdp study programme in sport psychology in elite sports. She is now lecturer and supervisor in the asp-education programme. She has authored 15 influential publications. After several years of employment at a psychosomatic and a psychiatric clinic she started her own private practice in psychotherapy focusing primarily on anxiety disorders, burnout, and depression. She has been counseling with numerous elite athletes (biathlon, ballroom and rock and roll dancing, ice speed skating, pistol shooting…) for 10 years.
Prof. Dr. Jürgen Beckmann
Professor and chair of sport psychology at Technical University of Munich (TUM), Germany, Honorary Professor of University of Queensland, Australia. Special fields of interest are motivation and volition, neurophysiological processes underlying performance, and clinical sport psychology with a special focus on nature-based solutions. Author of more than 180 publications with more than 5000 citations. Supervised more than 30 dissertations. From 1997 through 2013 he was dean of the department of sport and health sciences at TUM. Before becoming professor at TUM he was professor of sport psychology at Potsdam University, senior researcher with the Max-Planck-Institute of Psychological Research, Munich, visiting scholar at Florida Atlantic University with a Heisenberg Scholarship as well as adjunct professor at Soutwest Jaotong University, China. He was president of the German society of sport psychology and editor in chief of the German Journal of Sport Psychology. Currently, member of several editorial boards and advisory boards. He is a dedicated skier holding a level 3 licence as a skiing coach and instructor. From 1991 to 1994 he was member of the coaches team of the German Alpine Ski Team (Men). He has been consultant to numerous athletes and sport teams (several national teams, German Bundesliga) in over 30 years.
Thomas Benischke studied business education and English at the Ludwig-Maximilians-Universität in Munich and the City College of New York City. After receiving his diploma he worked as a trainer for leadership development in an international company. He took several further education courses such as systemic counseling, systemic constellation and transaction analysis. As freelance coach and trainer he focuses nowadays on leadership assessment and development, self- and conflict management, presentation and faciliation.
Dr. Frank Boeckelmann is working as Group Compliance Officer for Wacker Chemie AG in Munich. He was awarded a Diploma and Doctoral Degree in Business Administration from the University of Goettingen. He is having more than 25 years of industrial experience. He has worked in different managerial positions within the Wacker Group: Head of the Controlling Department of Elektroschmelzwerk Kempten GmbH, CFO of Wacker Chemicals East Asia in Tokyo, Vice President Internal Audit Siltronic AG. Since 2002 he is also lecturer for Business Administration of GIST (German Institute of Science and Technology – TUM Asia Pte Ltd) in Singapore. Since 2007 he is lecturer for IGSSE.
Dr. Duygu Brandstetter studied pedagogy and psychology at Ludwig-Maximilians-Universität München. Between 2004-2007 she worked in the area of Human Resources (Recruiting and Development). Six years she was responsible for the subject study "Soft Skills im Maschinenwesen" as an employee of Technische Universität München. Until March 2013 she was head of Zentrum für Sozialkompetenz- und Managementtraining. In addition to this work she wrote a doctor thesis. Duygu Brandstetter has been running her own company db-Training und Coaching since April 2013.
Micha Brück graduated from TUM in 1997 as an agricultural engineer. He has been working as a minister for more than 18 years and is a certified counselor at "Bildungsinitiative". He focuses especially on personality development and relational leadership, training young people to develop and use their communication and leadership skills. He also works with experienced leaders and coaches leadership teams. Furthermore, he is executive director and teacher at the EBS, an international Christian school with focus on skills training, interpersonal relationships, family life and leadership. Micha Brück has been married for 17 years and is a father of two children. In his free time he is a passionate motorcyclist.
Dr. Markus Burger holds a B.A. and M.Sc. from Oxford University and a PhD from FU Berlin. He learned his skills while working as a consultant at the Boston Consulting Group. He has produced slides and stories for Fortune-500 management boards and academic top conferences in Germany, Europe and the US.
Dr. Luisa Demant is a social worker and holds a Ph.D. in sociology. Her research focuses on professional development and consulting in social professions. Since 2012 she has taught seminars on consulting and professional development in social professions at the Technical University of Dortmund as well as seminars on inclusion, diversity and participation in society at the Technichal University of Munich. After finishing her Ph.D. at the Technichal University of Munich she moved to London to train as a yoga teacher with a specialisation in Embodied Yoga Principles. She now combines her research background in professional development with her passion for yoga, mindfulness and embodiment. In London she is working with clients in the social sector (among others: Frontline and University of Kent, Faculty for Social Work) on personal and professional development, through embodiment.
Dora Dzvonyar is a researcher and doctoral candidate at the Chair for Applied Software Engineering at TUM. After completing her MSc in Informatics, she joined the chair to pursue her passion for educational research. She also coaches scientists and experts to communicate better about their work and is organizer and curator of TEDxTUM, a conference that brings ideas worth spreading from all fields of science and beyond to the local community.
Kerstin Dübner-Gee is responsible for the internal program development in the Fraunhofer Academy's education management team since July 2014. Her main focus is on program development for Fraunhofer's research management. She holds a master in Human Resources Development, a diploma in Social Work and is a systemic advisor as well as a career coach. Her work experience in science-, network- and research management is manifold. She worked inter alia as the coordinator of the future concept of TU Munich for TUM's presidental office for the German excellence initiative and as the head of a novel recruiting initiative of the Bavarian Ministry of Economic Affairs and Media, Energy and Technology.
Prof. Dr. Guido Ellert received his diploma in science of sports and politics from the TUM, his PhD in communication psychology also from TUM. Since 2007 he is professor for Media Management at the MHMK Macromedia University for Media and Communication, and since 2013 he leads the Mediamanagement School in Munich as vice chair. Additionally, he works as a vice director for the AUDI Research Institute. His main research interests are in the management of the unexpected in complex systems, high performance teams, co-creation and service experience in sports- and liveworlds. Together with colleagues, he has published several papers in different international journals to these topics.
Dr. Malte Engel studied Philosophy, Psychology and English literature. He did his PhD at the Berlin School of Mind and Brain, working on the relation between neuroscience and questions of moral responsibility. In 2013 he founded the "Institut für Argumentationskompetenz". He offers seminars on critical reasoning and logic not only for students and scientists, but also for managers and political institutions. Dr. Malte Engel is a certified trainer of the BZTB (the "German Association of Trainers and Business-Coaches").
Wolfgang Fänderl, Päd. M.A. hat neben seinem Studium in Sozialwissenschaften und diversen anderen Fortbildungen, viel Praxiserfahrung in Coaching- und Workhop-Arbeit. Er berät und begleitet Organisationen, Netzwerke und Kommunen bei Fragen des Kooperationsmanagements. Sein Schwerpunkt in einem Forschungsprojekt der Bertelsmann-Stiftung an der LMU München war die Vereinbarkeit von Eigensinn und Gemeinsinn bei Beteiligungsprozessen. Aus diesen Forschungsergebnissen sind eine Reihe praxisorientierter Erkenntnisse und Methoden entstanden, die sowohl persönliche, gruppendynamische wie gesellschaftliche Prozesse unterstützen helfen.
Dr. Till von Feilitzsch ist Geschäftsführer der Fakultät für Maschinenwesen. Er hat Physik an der Universität Heidelberg und der Humboldt-Universität zu Berlin studiert und anschließend in Physikalischer Chemie an der Technischen Universität München promoviert. Dr. von Feilitzsch hat das Fakultäts-Graduiertenzentrum Maschinenwesen aufgebaut und begleitet seit mehreren Jahren die Diskussion über wissenschaftliche Standards an der Fakultät für Maschinenwesen.
Andrea Geipel is researcher at the Deutsches Museum and a doctoral candidate at the Munich Center for Technology in Society (MCTS) at TUM. She obtained her Master of Science in human movement science with a major in neuropsychology at TUM before she started her doctorate about science communication on YouTube. At the Deutsches Museum she coordinates a research project about the use of virtual and augmented reality in museums and runs and evaluates the VRlab in the exhibition area. She gives workshops at the Karlsruhe Institute for Technology (KIT) on project management and networking and teaches seminars in science communication at the MCTS.
Karin Gmelch has a background in Sport Sciences (Diplom-Sportwissenschaften) and is officially accredited by the German statutory health insurances as a trainer in the area of prevention and health promotion. She works as a personal trainer and qualified coach in various areas:
Design your Brain Master
Neurofit Master
Rope Skipping Master,
Life Kinetic Master Pro
Trainer for relaxation techniques (PMR, autogenic training, breath control,…)
Coach for stress release and reduction (Wege aus der Stressfalle Coach)
Trainer for back and spine exercises (Lizenz-Rückenschulleiter), certified by KddR,
XCO Trainer, XCO Walking Instructor, Flexibar Trainer, Aerobic/Step-Instructor, Spinning-Instructor, Tae Bo-Instructor, Aqua Fitness-Instructor
Barbara von Graeve works in media and marketing since the beginning of her career. After several positions in publishing companies and advertising- and pr-agencies she settled at the marketing magazine "Werben & Verkaufen". She soon became head of events and turned the division from a cost- to a profit-center. Because she was wandering why so many women where working at the company and still most of the leading positions where occupied by men, she founded the "W&V women network" for women in the media and marketing industry. Today Barbara is a member of the Frauen-Karriere-index team and she is publisher at the Marie von Mallwitz Verlag which focuses on books and products for business women. She is married and mother of two girls.
Philipp Gramlich studied chemistry at both Munich universities as well as at the University of Sydney. During his PhD, he joined a project team, whose work led to the foundation of baseclick GmbH by BASF Venture Capital. After some exciting experiences during the pre-founding and founding phases of this company, he went to Edinburgh for a postdoc. Here he could participate in a project to synthesize a complex molecular machine, which led to a publication in Science. Overall, his 11 scientific publications add up to >1200 citations (Researchgate). Philipp then left academic research to join Eurofins Genomics for five years. In this time he worked as team leader (mainly in part-time), eventually being responsible for 22 staff in three teams. In parallel, he co-founded NaturalScience.Careers, where he is focussing on leadership training, career starters, coaching and business development. In July 2016, he left Eurofins to fully concentrate on his own company- and to pursue his passion to work with young scientists on their professional development.
Elisabeth Grenzebach, Dipl. Vwl. and M. A., studied sinology and political economics in Munich, Berlin and Taiwan. After finishing der studies she got research assistant at the Free University of Berlin and worked as editor and chief editor at the Handelsblatt Group, a German publishing house. Meanwhile Mrs. Grenzebach manages a Training Agency for Writing. Her subjects are scientific, technical and creativ writing; public relations and article writing.
Andrea Gutmann (45, Austrian) is founder of 'plan a' www.plan-ag.net, a consulting company with a unique and innovative approach supporting people of all ages to find a (new) career perspective. Together with Dr. Petra Seisl she launched the ©womenizing-research project www.womenizing.com in 2012 focusing on gender-gap issues in German-speaking countries.
Dr. Markus Gyger took a PhD in biophysics at the university of Leipzig. As a student, he already beganconducting trainings on a voluntary basis. Since 2011, he has been working as a freelance trainerand coach. His field of topics ranges from 'presentation and communication', 'networking' and 'timeand self-management' to 'Improvisational theater techniques for difficult communication situations'.One focus of his work is to equip PhD candidates with the key competencies necessary for asuccessful doctorate.
Dr. Peter O. Hahn is lecturer for intercultural competences in communication, negotiations, and management. He received his Diploma in Physics at the University of Clausthal-Zellerfeld followed by the doctorate at the University of Hannover. After staying two years as visiting scientists at IBM Yorktown Heights, USA, he joined Wacker Siltronic for about 30 years. He spent about 10 years in marketing in different management positions ranging from project leader, head of development, board assistant and marketing director for Asia located in Singapore for 4 years. He published more than 50 papers, holds several patents and received 2 awards. Since 2012 he trains at universities, business schools, and in companies.
Klaus Haimerl, Dipl. Päd. (univ.), works as a trainer and coach and integrates almost three decades of experience across many organizations, companies, business- and industry sectors and functions. He is engaged in enhancing sustainable development of individuals, groups and organizations, and he focuses on self-reflecting personal and social skills – leadership and cooperation as well as emotional intelligence.
Prof. Dr. Dominik Hammer has the chair of International Management at the University of Applied Sciences, Munich, Business School since 2013. Previously he was working as Head of Business Administration at Maurer Söhne GmbH & Co. KG , Munich and as Director of Sanfield (INdia) Ltd. at Bhopal, India. After his military carreer as a staff officer in the german army he was working as a scientific assistant at the chair of International Management (Prof. Dr. Hans A. Wüthrich) at the University of the Federal Armed Forces in Munich and received a doctor´s degree (phd) in 2008. Prof. Hammer is also lecturer for International Strategy at the CASC MBA programme of the University of the Federal Armed Forces, Munich. He studied economics and organizational sciences at the University of the Federal Armed Forces, Munich and at the Texas State University at Austin, USA. As a state qualified military mountain guide together with a partner he founded his own alpine school »Blue Mountain Spirit«, at Nußdorf am Inn. He is research partner and academic advisor of Musterbrecher® Managementberater Osmetz+Kaduk Partnerschaft at Taufkirchen and co-author of the management bestseller »Musterbrecher – Die Kunst das Spiel zu drehen«.
Dr. Thomas Hausbeck, LL.M. is attorney at law, accredited specialist in fiscal law (Fachanwalt für Steuerrecht) as well as accredited specialist of company and commercial law (Fachanwalt für Handels- und Gesellschaftsrecht) and co-fonder of KAIROS RECHTSANWÄLTE | WIRTSCHAFTSPRÜFER | STEUERBERATER in Munich. Dr. Hausbeck has long time experience in advising medium-sized and start-up companies on general corporate law aspects from initial set-up through to liquidation and insolvency. Besides that he has special expertise in the field of commercial and business litigation.
Dr. Johanna Havemann obtained her PhD in 2009 for research she conducted at the Max-Planck Institute for Developmental Biology in Tübingen. She is now a trainer and consultant in Science Communication and International Affairs with working experience that covers NGOs, startups and international institutions including the United Nations Environment Programme (UNEP). Johanna lives in Berlin and is the founder and head at "Access 2 Perspectives".
Christian A. Herbst is a passionate motorcyclist and he knows how to take the windy roads in life and what to do, when the going gets tough. Early in his career, he started out as real estate agent and then consequently developed his coaching and teaching skills. He led an international school for leadership development, holds a degree in solution focused short therapy, is teaching at a Swiss coaching school and brings more than 20 years of experience as a leader, speaker, coach and trainer. In the last three years, he has focused on human resource development and succession planning. He loves helping people make the necessary changes for growth in their businesses or in their lives.
Ronak Kalhor-Witzel is a physicist and patent attorney and works in a renowned patent firm in Munich.
As a patent attorney, Ronak Kalhor-Witzel specializes in the technical fields of mobile communications/telecommunications, electrical and mechanical engineering. Due to her further professional education as a medical physics expert and her scientific activity at the German Cancer Research Center (DKFZ), she has gained detailed knowledge in the field of medical technology.
The practice of Ronak Kalhor-Witzel as a patent attorney focuses on both patent prosecution as well as defending and attacking patents in opposition proceedings. Another focus is the enforcement of IP rights in patent infringement and (parallel) nullity proceedings at the Federal Patent Court as well as infringement and validity opinions.
As part of a team of patent attorneys and attorney-at-law, Ronak Kalhor-Witzel is currently involved in a series of patent infringement proceedings of international companies in the fields of mobile terminals and semiconductor techniques. She is married and mother of four children.
Dr. Karianne Kalshoven is specialist in "Ethical Leadership" en has several international publications on this topic. For example in The Leadership Quarterly, Journal of Management, Journal of Business Ethics, European Journal of Work and Organizational Psychology and Applied Psychology: An International Review. Karianne has developed a tool for measuring ethical leadership within organizations, as part of her PhD thesis, the so-called Ethical Leadership at Work (ELW) questionnaire, which has been used by organizations and researchers around the world.
Furthermore, Karianne is founder of the Amsterdam Center for Integrity and Leadership. She is active as coach, inspirator, teacher and scientific researcher in the field of ethics and leadership for several years now. Her expertise is creating connections between people, ethics within context, and between science and practice.
Prof. Hugh Kearns is recognised internationally as a public speaker, educator and researcher. He regularly lectures at universities across the world and has recently returned from lecture tours of the UK and the US which included lectures at Oxford, Cambridge, Harvard, Berkeley and Stanford.
His areas of expertise include self-management, positive psychology, work-life balance, learning and creativity. He draws on over twenty five years of experience as a leading training and development professional within the corporate, financial, education and health sectors in Ireland, Scotland, North America, New Zealand and Australia. He has coached individuals, teams and executives in a wide range of organisations in the public and private sectors.
Hugh lectures and researches at Flinders University, Adelaide, Australia. He is widely recognised for his ability to take the latest research in psychology and education and apply it to high-performing people and groups. As a co-author with Maria Gardiner, he has published ten books which are in high demand both in Australia and internationally.
Birgit Koch completed a two-year study of systematic coaching and supervision before holding a position at the Institut Rhythmikon for 10 years, heading training courses, supervision sessions and symposia for educators, therapists and artists. She spent a further 8 years as head of the institute. Additionally she worked in coaching and team developing for institutions including ADAPT-European Commission, Siemens, and Infineon Technologies. Birgit Koch has been running her own company ÜBERBLICK – Systemisches Coaching since January 2002.
Kathrin Koehler supports C-levels in corporate organizations with their positioning and digital communication. Born in 1970, the journalist is not a "digital native", yet has immersed herself in social networking and communication, having a clear focus on giving motivational impulses for digital networking. She is a certified trainer with a media management degree (1999). With her leadership experience of more than 15 years in the publishing industry (e. g. Gruner + Jahr, Hubert Burda Media), Kathrin is a consultant and coach for social media self-marketing und digital positioning in Dax 30 as well as in medium-sized companies. She leads interviews on the topic of digital identity on her podcast "Digital You" (since June 2018, available in German only).
Tim Korver has experiences in teaching English Communication Skills in a range of industries for more than ten years. After his studies in South Africa, he went to Australia and United Kingdom for several years working among others as a Business English teacher. Since 2004 he owns a language school in Munich providing in-company for Business Communication skills. His focus areas are in the development of communicative competences for meetings, negotiations, telephoning and emails.
Dr. Jan Kreklau is attorney-at-law and partner in the law firm Weiss ● Walter ● Fischer-Zernin, Munich. He focuses on company law, from the choice of legal form and the formation of companies to continuous advice on all matters of company law as well as M&A. In addition, Dr. Kreklau advises on issues of commercial and economic law, including the drafting and negotiating of contracts. He also represents his clients in court in all areas. Dr. Jan Kreklau studied law and obtained his doctorate from the University of Bayreuth. Since 2014 Jan Kreklau conduct courses at TUM on company foundation and management.
Prof. Dr. André Krischke has studied Business Administration at the University of Hagen and Mechanical Engineering at the Technische Universität München. After completing his PhD in Chemical Engineering under Prof. Vortmeyer, he worked as a business consultant and project manager at McKinsey & Co., Inc and as a Global Supply Chain Manager at OSRAM GmbH Munich. Prof. Dr. Krischke has been a professor for Supply Chain Management at the University of Applied Sciences, Munich since 2006.
Dr. Dieta Kuchenbrandt studied Psychology at the University of Greifswald, where she also completed her PhD in 2010. She then had a postdoc position at the Center of Excellence in Cognitive Interaction Technology (CITEC, Bielefeld University) and was a visiting professor for Social Psychology at the University of Osnabrück. In addition, she completed a two-year training program in management consulting and coaching (Deutsche Psychologenakademie). Today, Dieta Kuchenbrandt is the co-owner of schainundkuchenbrandt, working as a trainer and coach dedicated to the interests and concerns of scientists in academia. Her work particularly focuses on career planning for scientists, applying for professorships, time management, and leadership.
Sabine Lendorf-Sandler studied psychology and economics at the Ludwig-Maximilians-Universität München. She has gained professional experience as an HR business partner (banking and finance sector) since 1990 in human resource development, coaching and training, management diagnostics and leadership training. From 2004 to 2009 she was a team leader for management development.
Beatrix Lippert is attorney-at-law since 1995 and certified employment law specialist since 1999, currently as Head of Employment law in the law firm Weiss · Walter · Fischer-Zernin in Munich and Rosenheim. She is practicing on all areas of individual and collective employment law, advising companies as well as managing directors and executive employees. The range of her work leads from designing and negotiating contracts to the enforcement of her clients` claims in court. Beatrix Lippert focuses on offering individual, customized solutions for her clients. Beatrix Lippert is also giving lectures about various issues of employment law, and is offering legal workshops and trainings concerning all types of employment law aspects for her clients.
Julia Lübbers studied Business Psychology at the Business and Information Technology School, BiTS in Iserlohn and did her Master degree in Management Psychology at the University of Nottingham, United Kingdom. Currently she works as a consultant and trainer for system worx, an HR and Change Management Consultancy in Munich. In her work, she focuses on project coordination, change process support and trainings within communication. Before starting at system worx, Julia Adorf worked as a recruiter for KPMG, as well as in several German companies in the field of HR development, consultancy and adult education.
Since many years, Barbara gives talks and seminars about personal branding as well as the need to support your career by being a strong brand. After a comprehensive international career with US-American and French stock exchange listed companies Barbara was a member of the Private Sector Board of the Commerzbank in Frankfurt. She was part of the management team to conduct the take-over of the Dresdner Bank by Commerzbank and was running the project team for the integration and transformation of over 10.000 employees. Barbara was an expert for the BMFSFJ (Federal Ministry of Family Affairs, Senior Citizens, Women and Youth). Due to her vast experiences in (inter)national management positions, Barbara analyzed and assets the most successful factors of how to support women in careers. This was the beginning of the FKi (Women Career Index) which aims to support women more adequately and to help companies to achieve better results. Barbara is married and has two children.
Dr. Wilfried Mende works since 1989 as a consultant, trainer and coach for project management, problem solving, decision finding, presentation and self management. He supports people and teams to develop and be more effective. He has several lectureships at different universities and senior colleges.
Dr. Dunja Mohr has been working as a trainer and coach for over fifteen years, offering workshops and career counselling for international and national academics of various career stages on behalf of foundations, clusters of excellence, Graduate schools, the MPG, and universities. She set up her own business Go Academic! fifteen years ago but has also been a trainer and coach within uni-support, Düsseldorf, for ten years. She studied English, American, Canadian, and German Literature in London, Marburg, Montréal, and Trier, receiving a number of scholar- and fellowships, and has taught at a number of German universities for roughly twenty years, publishing widely. She is an ambassador scientist and alumni of the Hans-Böckler-Foundation.
Veronika Molin is a state-registered respiration, speech and voice teacher and rhetoric trainer. She works freelance in her "Stimmatelier München" since 2011.In 2016, she obtained her degree in Speech Therapy – Applied Therapeutic Sciences (B.Sc.). Her passion is to observe how people talk in terms of words, voice and body, and what it induces.
In the therapeutic field, she helps clients to develop and recover a healthy and durable voice for their professional work. In the field of education, she trains professionals' rhetoric skills to improve their expressive power and presence. Besides her work as a personal voice therapist and voice coach, she has gathered broad experience as a voice teacher at the acting schools "Neue Münchner Schauspielschule" and "München Film Akademie", and as lecturer at the "TUM Carl von Linde-Akademie". She gives advanced training at the "Institut Schlaffhorst-Andersen" for vocalists, speech coaches and speech therapists and is in demand as a speech coach at enterprises, such as Msg Systems AG, to train rhetoric skills.
Helga Nolte is mediator, coach and advisor in questions of good scientific practice. From 2005 to 2012 she was assistant of the German Committee "Ombudsman für die Wissenschaft" and manageress of the central office of this national board. Since October 2013 she is working as assistant of the local Ombuds Board of the University of Hamburg. Since 2010 she works as a freelancer and conducts workshops and lectures on good scientific practice, based on the Curriculum "Teaching good scientific practice". Since 2011 she is a member of the team "scientificintegrity".
Jezabel Ohanian has a background in Sport Sciences (Diplom-Sportwissenschaften), works as a personal trainer and qualified coach in various areas:
Athletics coach
Trainer for back and spine exercises (Rückenschule), certified by zpp
Core Trainer , certified by zpp
Basic Pilates Instructor
Zumba Instructor
Trainer in Neuroathletics
Neurofit Master
Isabela Plambeck studied technical engineering in industrial design at the Polytechnical University of Valencia, Spain. Between 2011 and 2013 she worked as a concept designer in an international company, where she developed interactive, digital media installations in close cooperation with cliends and stakeholders. With her understanding of design methods, moderation and conceptual skills she is active as a trainer, workshop facilitator and innovation coach.
Maria Prahl, M.A. studied Human Resource Development, Eastern European History and Intercultural Communication. She works since 2004 as trainer and facilitator in universities, foundations and companies. She completed a three-year education in training and facilitation. Her main focus in training lies in international cooperation and communication in teams, intercultural teaching styles, Diversity Management and Train-the-Trainer.
Dr. Eva Reichmann is working as a coach and instructor in teaching centers and at universities. She has many years of experience in academia (literary studies) and as consultant for Human Resource and Organizational Development. Her core areas are amongst others groundbreaking concepts for course design, assessment of learning and career planning for graduates. Dr. Eva Reichmann is owner of beruf & leben GbR.
Manuela Richter-Meyer has been working as a qualified, independent trainer in communication and sales in various industries for 17 years, especially in pharmacie. At the TUM she is known for extremely practical, lively rhetoric seminars for "Redenkneifer" and professionals. As a certified business coach she has specialized for years in the field for training executives and managers. In her function as a HBDI certified trainer it is important for her that people are able to use their personal resources for themselves and in a team perfectly.
Gerhard Rinck ist Diplom-Betriebswirt und u.a. in den Bereichen Kommunikationspsychologie und Coaching (Institut für Kommunikation bei Prof. Dr. Schulz von Thun) sowie Wirtschaftsmediation (IHK) ausgebildet. Als BTI Planspieltrainer bringt er neben seinen bereits genannten Qualifikationen sein umfangreiches Wissen aus 40 Jahren Berufserfahrung bei der Siemens AG in verschiedenen Berufsfeldern ein.
Dr. Carsten Rohr studied physics in munich and did his PhD on molecular self-organization. He plays and teaches improvisational theatre. He is an experiential educator and an IHK certified trainer. He focuses in trainings on scientists and engineers exclusively, where he likes to combine the hard skill and soft skill parts. His trainings include "presentation skills", "scientific writing" and "efficiency skills". Additionally, he is co-founder of a medtech start-up.
Nicole Ruby has worked as a freelance trainer with a primary emphasis on communication, presentations skills and leadership for various customers in administration and business since 2000. Having studied "Mündliche Kommunikation und Sprecherziehung" in Regensburg in addition to her regular studies in Germanistik and Psycholinguistik, she specializes in working in a sensitive way with groups and individuals, helping them to develop their confidence in order to feel more secure in leading hard conversations or negotiations.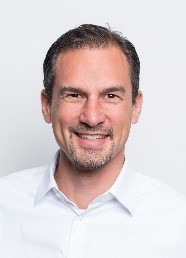 Dr. Steffen Schabel has been running his own company Dr. S. Schabel Consulting since 2017 with focus on Consulting, Training and Coaching in Leadership and Sales. He has been awarded a Diploma in Industrial Management at University of Applied Science in Esslingen and a Doctoral Degree from the University of Witten-Herdecke. In over 15 years of industrial experience he was responsible for different leadership and sales functions. Amongst other things he has been Customer Care Director for Germany, Austria and Switzerland and had responsibility of various sales teams. He worked for leading companies in the HealthCare sector like Styker, Covidien and Medtronic. Besides his practical experience in management he is a certified Trainer, Business Coach, Manager Digitization and Online Trainer.
Anja Schmid is a qualified digital media designer and a dedicated trainer from Straubing. She is specialised in creating print and digital media for the professional communication of scientific data and methodical approaches. Her apprenticeship in the publishing sector in Leipzig built the basis of her career, which was followed by diverse positions in the advertising industry in Leipzig, Dessau and Berlin. Additionally, she worked as an instructor in a social integration enterprise to prepare physically and mentally impaired young people for a job in the area of digital media. From 2007 to 2011, she supported the department of "Presentation Design" and "Media Design" of McKinsey & Company in Berlin and Munich. In that position, she started her career as trainer and developed and held worksops on "Efficient Presentation" and "Chart Design" for prospective consultants. Further trainings include the topics of "Corporate Design" and "Design" for different companies.
Since 2009 Dr. Petra Seisl (49, Austrian) has been working as consultant: She supports companies in Change-Initiatives, mainly HR-related projects (e.g. PMI, Downsizing) on the one hand and consults companies as well as individuals in gender- and career issues on the other hand. Together with Andrea Gutmann she launched the ©womenizing-research project in 2012 focusing on gender-gap issues in German-speaking countries. She is network partner of 'plan a' and Challenge X and co-owner of a market research company. Petra holds a Ph.D. in Business Administration and studied economics at LMU Munich. During her dissertation project she worked five years as Assistant Professor at the Institute for HR and Organizational Studies at the Universität der Bundeswehr, München (Prof. Dr. R. Marr), followed by a career in the Aerospace Industry (1997-2008) where she held several strategic and operational Management positions. Petra also used to teach at the Munich Academy for Television and Film (Strategic Management & Leading Teams).
Eliza Skowron, M.A. M.A. (German Philology, Intercultural Studies, Teacher for German language), born and raised in Poland. Since 2002 she works as trainer and facilitator at universities, public sector and companies, not only in Germany, but also in many European countries. She completed a three-year education in training and facilitation as well as training in Anti-Bias Approach. In 2015 she completed courses at the Intercultural Communication Institute at Reed University, Portland, USA. Her main focus in training is constructive communication and interpersonal competence with anti-bias approach. Founder of social enterprise Working Between Cultures and author of several books on diversity.
Monique Spann studied Intercultural Organizational and Personal Development at the Friedrich Schiller University in Jena. Currently she works as a consultant, trainer and mediator for system worx, a systemic Consultancy in Munich, that focuses on cultural development and change within organizations. In trainings and seminars she works with different people from managers and employees to young professionals and doctorial candidates regarding topics such as team development, intercultural collaboration, time and self-management as well as professional orientation.
Dr. Birgit Spielmann leitet an der Fakultät für Maschinenwesen die Zentrale Lehre und ist neben der Leitung des Zentrums für Schlüsselkompetenzen die Geschäftsführerin des Fakultäts-Graduiertenzentrums Maschinenwesen. Sie hat an der Ludwigs-Maximilians Universität Lehramt studiert und anschließend im Bereich Pädagogik an der LMU promoviert. Dr. Spielmann lehrt seit mehreren Jahren im Bereich der Schlüsselkompetenzen an der Fakultät MW. Dazu gehören neben den klassischen Soft Skills Themen die gute wissenschaftliche Praxis. Sie beteiligt sich in ihrer Funktion an Diskussionen über die gute Lehre für Studierende und wissenschaftliche Standards an der Fakultät für Maschinenwesen.
Gerlinde Sponholz, PD Dr. rer. biol. hum. and Dr. med. in Biology and Medicine from the University of Ulm, offers trainings, counselling and teaching in human biology and human genetics. Since 1994 she develops teaching models in medical ethics and research ethics for undergraduate students, graduate students and post docs and a curriculum for' teaching good scientific practice' on behalf of and in cooperation with the ombudsman for german scientists. She is a member of ENRION (European Network of Research Integrity Offices) and www.scientificintegrity.de.
Dr. Sebastian Spörer has a background in clinical Psychoneuroimmunology as well as in Social Sciences and Business Studies. He is the managing director of 'Neuro Pioneers Training und Consulting GmbH', an organization providing coaching, consulting and training services in the area of human resource development based on insights from Neuroscience. Sebastian Spörer works as a lecturer for project management at the University of Augsburg, as a trainer for Neuro-Didactics at the Haufe Akademie and is Scientific Advisory Board member and Lecturer in the European D-A-CH Association Stress-Medizin e.V. He is a sixfold book author, family father and long-distance triathlete.
Beatrix Stahlberger studied psychology in Mannheim and Heidelberg and is a certified coach on the basis of Transactional Analysis. She worked several years for the University of Osnabrück teaching social psychology. As her son was born, she moved to Düsseldorf and founded her own training institute in 1998. Since then she has been giving trainings and seminars in leadership, conflict management, emotional intelligence and intercultural communication to companies and organizations.
Monika Maria Thiel, Owner-Manager of Creative Dialogue e.K., studied theology (Münster and Tübingen) as well as I/O Psychology, Psycholinguistics and Intercultural Communication at the LMU. Certified in commercial mediation, supervision, training, collaborative practice and the Graves Values System-Model, she was an editor at Springer Verlag, Heidelberg, for 15 years. Monika specializes in leadership, team development and conflict management. With 20 years of experience, she has developed international teams and individuals, as well as running teaching assignments at various universities in Germany and abroad..
Veronika Völler studied business psychology at the HS Harz in Wernigerode. Since finishing her studies she has been working as a freelance consultant, trainer and coach. She focuses her business on leadership and team development, leading change processes, career coaching and job application. Additionally she offers trainings for improving health and a better work-life-balance. Before becoming a business psychologist Veronika Völler worked for Siemens as a sales representative. After her studies she has been taken several further education courses such as systemic counselling and career coaching.
Claudia Wabel completed her Diploma in German linguistics at the University of Bamberg as well as additional studies of communication sciences, journalism and international politics. She spent 5 years living and working in the USA gaining vital experience in business and leadership. A certified systemic coach and consultant (DBVC) since 2002, trained in Strengths Development (2012), Claudia specializes in leadership development, intercultural competence, coaching and team develop-ment. Her StrengthsFinder TOP 5 Talents are Maximizer, Individualization, Arranger, Connectedness and Strategic.
Barbara Wagner has been working as an educational theorist in the roles of supervisor, trainer and coach in international businesses since 1995. Her focus areas are in the development of leadership, team and project management skills. For two years she was instrumental in the setting up of the TUM Graduate School and conceptualizing the Qualifications Program for doctoral candidates. She has been working as a freelancer since fall 2012.
Michael Wiedenmann is qualified sports scientist. From training with sports teams he started team, communication and presentation training with students and in industry. He does not see the thematic area of presentation solely as business and industry related but also from his particular point of view as a musician, band leader and actor.
Stefanie Widmann has been trainer and individuell coach for communication and team development for large scale enterprise and medium-sized businesses in Europe since 1999. Since 2006 she works freelance with "Wege der Kooperation" and is qualified in communication, conflict management, management trainings and team develop-ment, individual time management and special flipchart training. She published several books e.g. "FlipchartArt", "Moderne Parabeln" and "Kooperation". In addition to that she is certified in Transactional Analysis (Counselling).
Frank Wendeberg has been working in adult education as a trainer and coach since 1994. His main areas are ethics in science and leadership, teambuilding in social organizations and lifestyle-oriented and value-based career planning. Furthermore, he works on a freelance basis as a psychologist (with a focus on music therapy), musician and as sound engineer with his own company.
Ursula Wendeberg has worked in adult education as a trainer and coach, focusing on team building, train the trainer, lifestyle and career planning and ADHD since 1995. Having studied pedagogy, history and political science, she works as a freelancer for business companies and non-profit organisations in cooperations with several training networks.
Katja Wolter studied Business Administration at the University of Applied Sciences Stralsund and John‐Moores‐University in Liverpool (England). She was i. a. working in Finance for an international Company in Frankfurt am Main, Consultant of the Administrative Director of Rundfunk Berlin Brandenburg (rbb) and Director of Finance and Controlling at Deutsche Entertainment AG in Berlin. Since 2014 she is Head of Steinbeis Research Center – Institute of Resource Development, Greifswald. Homepage of Katja Wolter: www.steinbeis-inre.de